On October 22, Dmitry Patrushev, the Minister of Agriculture of Russia, and Borut Pahor, the President of the Republic of Slovenia, held a working meeting in Ljubljana. The sides discussed the strengthening of bilateral cooperation.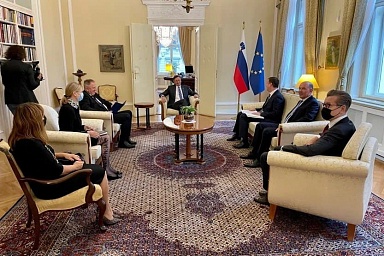 The Minister noted that there is an active political dialogue between the countries, which covers a wide range of areas of cooperation and international issues. He stressed that bilateral trade relations have good potential despite certain restrictive measures between the European Union and Russia.

The action plan to strengthen cooperation in the agricultural sector, signed at the meeting with the Minister of Agriculture, Forestry and Food of the Republic of Slovenia Jože Podgoršek, will contribute to a more intensive and effective dialogue.

An important part of the cooperation between the two countries is the preservation of historical memory. Dmitry Patrushev expressed his gratitude for the establishment of Russia-Slovenia Friendship Day, and thanked Borut Pahor and all Slovenians for their careful and respectful attitude towards the shared history and care for the Russian war graves.
Read more news in our Telegram Channel & Find more Analytics here