From September 1, 2022, most of the provisions of the new rules for slaughtering livestock and veterinary sanitary examination of meat, which are approved by order of the Ministry of Agriculture No. 269, will come into force in Russia. The next meeting of the working group to address issues related to the slaughter of productive animals was held on August 8. The group was created on behalf of Deputy Prime Minister Victoria Abramchenko.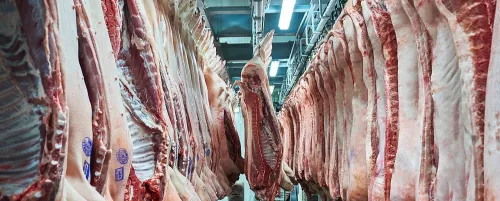 According to experts, the new rules for slaughtering animals give relief to peasant farms. "If earlier slaughter could be carried out at meat processing plants, now this procedure has been simplified - there are specially designated places for this," explained the Veterinary Agency of the Ulyanovsk Region, the head of the regional veterinary agency Nina Pelevina joined the working group.
However, the experts noted that with this approach, there was a need for a more professional approach to the veterinary sanitary examination of meat.
Nina Pelevina made a proposal to tighten the system of veterinary and sanitary examination of slaughter products. "One of the conditions for tightening is the accreditation of laboratories, which will allow for a more professional level of veterinary and sanitary examination of peasant products, which means expanding its access not only to markets, but also to retail chains," the veterinary service said in a statement.
Recall that the new veterinary rules establish the holding time of animals before slaughter: 15 hours for cattle, sheep, goats, deer and camels, 10 hours for pigs, a day for horses, donkeys and mules, five hours for rabbits and nutria, up to 12 hours - for poultry.
All animals must be examined by a veterinarian before slaughter. In case of detection of any diseases, such individuals are prohibited from being taken out of the slaughterhouse. In this case, the entire batch of livestock is placed in quarantine. Injured individuals are sent for slaughter on a priority basis.
Livestock are slaughtered in ways that do not cause stress to animals and ensure humane treatment of them, the document says.
After slaughter, the products must undergo a veterinary and sanitary examination, which will confirm its safety. The rules prescribe the procedure for sampling and conducting a veterinary sanitary examination, including the timing of its conduct.
The new rules do not apply to meat products that are produced for personal consumption.
The document comes into force on September 1, 2022, except for the provisions regarding the slaughter of poultry. These points will come into effect on March 1, 2023.