The potential for beef exports from the Russian Federation is 75-80 thousand tons for $450-480 million per year. This assessment was made by experts of the Agroexport center under the Ministry of Agriculture in a review of the market for this meat.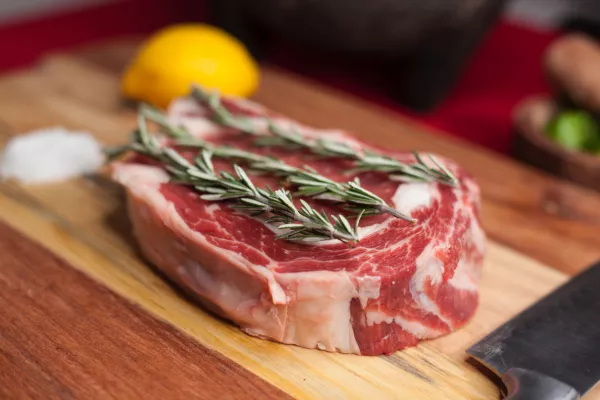 In 2022, the export of Russian beef amounted to 34.6 thousand tons for $234 million. This is 6.4 and 12.6 times more, respectively, than in 2017. Record exports in physical terms were noted in 2021 - 37 thousand tons for $226.6 million.
According to experts, the growth in deliveries became possible due to the opening of the Chinese market for Russian exporters. As a result, China increased imports of beef and offal from Russia from 2 tons in 2019 to 21.5 thousand tons in 2021 (by $149.2 million). Thus, China's share in Russian exports amounted to 58.1% in physical terms and 65.8% in value terms.
The top 5 buyers of Russian beef also included Kazakhstan, Morocco, Saudi Arabia and Vietnam. Thus, Kazakhstan in 2021 imported 2.5 thousand tons of Russian beef for $10.5 million against 1.4 thousand tons for $5.3 million in 2020, Saudi Arabia - 2.1 thousand tons (for $23.9 million) against 1.7 thousand tons (by $17.2 million), respectively. Vietnam reduced supplies to 1.6 thousand tons from 1.8 thousand tons in 2020. But their value rose to $4.2 million from $4 a year earlier. Morocco imported 2.3 thousand tons worth $9.5 million in 2021, there were no deliveries in 2020.
According to the center, the key destinations for Russian beef exports will remain China and Saudi Arabia, which already account for more than 76% of supplies in value terms. Promising areas are also other markets of the Persian Gulf countries and the CIS countries.
As specified in the review, beef cuts are in the greatest demand in foreign markets. Their deliveries in physical terms more than doubled to 32.5 thousand tons (by $88.2 million) in 2021 from 16.1 thousand tons (by $216.1 million) a year earlier. The export of by-products also increased - up to 4.5 thousand tons (by $10.4 million) from 4 thousand tons (by $7.8 million), respectively. At the same time, the export of carcasses and half-carcasses showed negative dynamics: natural indicators decreased by almost 60%, value - by 6.5%.
As reported in the review, over the period from 2017 to 2021, beef imports to the Russian Federation decreased and in 2021 became a record low - 287 thousand tons worth just over $1 billion. This is respectively 13.9% and 2.7% lower than 2020. Compared to peak indicators in 2013, deliveries decreased by more than 2.6 times in physical terms (from 765.7 thousand tons to 287 thousand tons) and almost 3 times in value terms (from $3.1 billion to $1, 03 billion). At the end of 2021, Paraguay and Belarus became the leaders in the import of beef and offal to the Russian Federation, and Kyrgyzstan, Colombia and Kazakhstan significantly increased their supplies.
At the same time, in 2022, imports increased by 1.1% and amounted to 290.2 thousand tons. In many ways, the reason for this was the introduction of a quota for duty-free import of 200,000 tons of beef. This measure was aimed at providing producers of canned meat and sausage products with raw materials, as well as at stabilizing prices, the review reminds. In February 2023, the EEC agreed on the duty-free import of 100,000 tons of beef to Russia.
In 2021, beef production in Russia increased to 1.637 million tons from 1.634 million tons a year earlier, the review notes. In 2022, according to preliminary data, it decreased to 1.614 million tons. Last year, the trend to reduce the consumption of this meat continued. "This was due, in particular, to the fact that a significant part of beef consumption falls on the hotel and restaurant sector. Covid restrictions had a negative impact on the consumption of this type of meat, due to which the HoReCa sector was idle for a long time," the review says. .
According to the review, global beef production as a whole shows a positive trend. The decline due to the pandemic was observed only in 2020. In 2022, production volumes are estimated at 59.4 million tons, which is 1.7% higher than the previous year. The share of Russia in the world market of this meat last year was 2.7%. The leading producers are the USA (21.7%), Brazil (17.4%), China (12%).