Despite all the existing difficulties in the livestock industry and the agro-industrial complex in general, producers are coping well with new challenges. This was stated by Deputy Minister of Agriculture Andrey Razin during the Agroinvestor conference Russian Meat & Feed Industry - 2022. "Last year, we had problems with the volume of poultry meat production due to outbreaks of bird flu, but despite all this, at the end of the year, poultry farmers reached a positive trend," he recalled.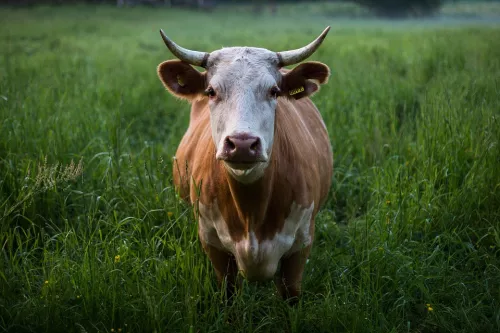 In the first quarter, livestock producers — meat, milk, eggs — continue to show growth, although they face a number of problems, including logistical ones. "Nevertheless, there are no prerequisites to assume that we will not fulfill this year's task in terms of increasing production in all areas, including in the livestock sector," he said. "We need to look at the possibilities of diversifying traditional channels for the supply of equipment, spare parts, premixes, vitamins, feed additives." Today, according to him, livestock breeders are forced to look for additional supply channels, with which they do a good job, providing products not only to the domestic market.
"Export volumes are growing, not only in value terms, but also in volume. Our products are in demand in foreign markets, new countries are opening up for interaction," said the deputy head of the agricultural department. The opening of new markets, according to him, is one of the vectors that will move our manufacturers forward. According to Razin, one of the important tasks of Russian market participants is to become more and more active in the international arena as a reliable supplier in terms of volume and quality, which our manufacturers are already doing quite well.
Razin also said that at the beginning of the year there was a problem with investment activity in the livestock sector due to lack of liquidity. "We have seen certain shocks associated with an increase in the key rate," he recalled. However, thanks to additional measures to support the industry, it was possible to carry out the sowing campaign in a timely manner and help producers with investment loans. "For us, the livestock industry is one of the priorities, and today preferential investment loans continue to be available for market participants," Razin emphasized.
He added that the Ministry of Agriculture continues to support and develop the program for the construction of selection and genetic centers, for which additional funds will be allocated, including to return part of the capital costs of construction. In addition, in order to support agricultural producers, it was decided to zero out a number of import duties on machinery, spare parts, equipment, and the procedure for crossing the border for plant protection products and agrochemicals was simplified.
Razin also drew attention to the fact that a number of large companies in the food sector are now undergoing a change in the ownership structure, while all enterprises in the industry continue to operate, maintaining production volumes. "We have new investors, the ultimate holders of assets are changing, we are calm about this process," he added. Speaking about the new trends that livestock producers need to take into account, Razin mentioned a change in purchasing behavior: people began to show less interest in high-margin products.