Russian exports to EU up 69.9% and EU exports to Russia down 33% as sanctions and increased energy costs harm EU exporters
Despite sanctions, bilateral trade volumes between Russia and the European Union countries actually increased during the period January-July 2022, according to the EU's own monitoring department, Eurostat. Trade turnover for the period reached €171.4 billion.
Sanctions have had an undeniable impact, but not in the manner the EU had intended. While EU exports to Russia declined 33% during the 7 months of 2022, amounting to just €34.1 billion, EU imports from Russia surged by 69.9% up to €137.3 billion.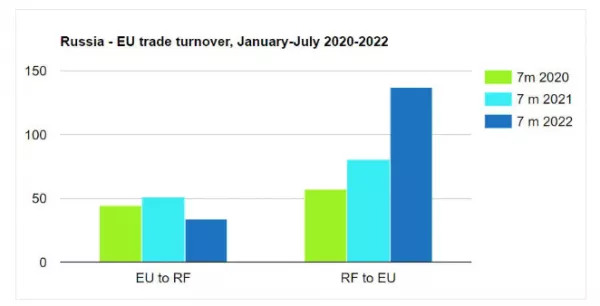 This means that it is European Union businesses that are suffering export market losses. There are reports of huge damage committed to European businesses, not just because of sanctions and the loss of market, but increased production costs due to increasing fuel expenses. An estimate by Der Spiegel suggests some 15,000 companies in Germany alone could face bankruptcy.
The trend of European exports heading downwards while Russian exports to the EU heading upwards appears to be gaining traction. In July 2022, European exports to Russia declined by 46.9% down to €4.3 billion, while Russian exports to the EU, on the contrary, grew by 25.2% to €16.9 billion. If that current figure is taken as a base line for the year, it will mean that 2022 will see figures of EU exports to Russia achieving €51.6 billion, down from €104.5 billion last year, a decline of over 50%. Russian exports to the EU however will have reached €202.8 billion, up from €158.5 billion in 2021. (Source: Eurostat)
The decline of the value of the Euro against the Ruble has also had a negative impact on the European Union's ability to compete. In January 2022 the Euro was valued at 85 Rubles, at October 3 it is valued at 58 Rubles to the Euro.