The Russian exposition, displaying dairy and confectionery products, cereals and canned foods, vegetable oils, sauces, and much more, opened at Anuga 2021, the International Trade Fair for Food and Beverages held in Cologne.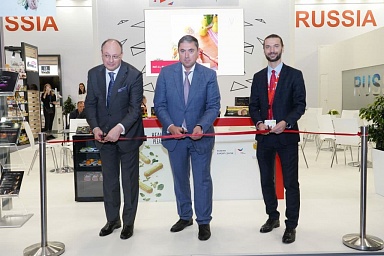 The Russian delegation, headed by Maxim Uvaidov, Deputy Minister of Agriculture, included representatives of the Russian Ministry of Agriculture, the Russian Embassy in Germany, the Russian Consulate General in Bonn, the Russian Export Center, and 40 exporters of agricultural products. In his welcoming address at the opening ceremony of the Russian exposition, Maxim Uvaidov noted that the Russian-German relations in agriculture are developing constructively and systematically.

Russian Deputy Minister discussed with Julia Klöckner, Minister of Food and Agriculture of Germany, the importance of strengthening and developing cooperation between the countries in the agricultural sector, including organic farming.

Meanwhile, domestic exporters successfully negotiated supplies of confectionery, nuts and sauces. Besides, the delegation visited German farming enterprises specialising in agrotourism with the assistance of the German-Russian Agricultural Policy Dialogue project.