Russia's primary international economic forum takes place in June amongst the background of extraordinary events. We give you a front row seat.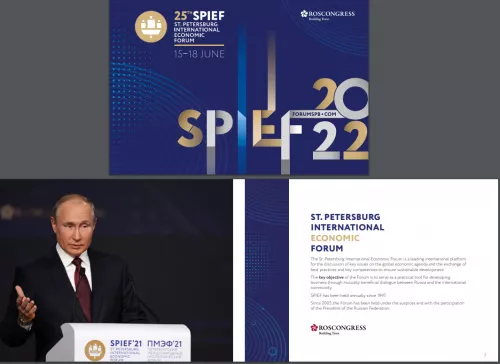 The St.Petersburg International Economic Forum (SPIEF) takes place from June 15-18, an annual event usually hosted by the Russian President Vladimir Putin and one at which Russia-Global economic and trade development and investment policies are discussed within the structure of an economic forum. Senior foreign officials attend, with this year's Primary Guest of Honor being the Egyptian President.
Obviously this year's event is being held under the continuation of the Ukraine conflict and the potential development of what the SPIEF addresses as this year's theme: "New Opportunities in a New World." The SPIEF 2022 introductory brochure can be downloaded here.
SPIEF 2022 will focus on the Asian-Pacific and Africa. Government and commercial representatives from the following countries have stated they will be attending:
North America
Canada, Mexico, United States
Europe
Austria, Belarus, Belgium, Bulgaria, Cyprus, Denmark, Finland, France, Germany, Greece, Hungary, Italy, Liechtenstein, Luxembourg, Malta, Moldova, Monaco, Netherlands, Norway, Romania, Serbia, Slovenia, Sweden, Switzerland, UK, Ukraine.
Caucasus, Near East
Azerbaijan, Iran, Israel, Jordan, Palestine, Syria, Turkey.
Middle East & North Africa
Egypt, Kuwait, Morocco, Qatar, Saudi Arabia, UAE.
Africa
Benin, Burkina Faso. Cameroon, Central African Republic, Ghana, Kenya, Mauritania, Namibia, Nigeria, Sierra Leone, Yemen.
Central Asia
Kazakhstan, Kyrgyzstan, Mongolia, Uzbekistan.
South & Southeast Asia
Bangladesh, China, Hong Kong, India, Japan, Sri Lanka, Thailand.
South America
Belize, Colombia, Uruguay, Venezuela.
Pacific
Australia.