In 2022, Russia will fulfill the indicators of the Food Security Doctrine for grain, butter, sugar, meat, and is moving towards achieving indicators for vegetables. This was announced by First Deputy Minister of Agriculture of the Russian Federation Oksana Lut during an expanded meeting of the State Duma Committee on Agrarian Issues.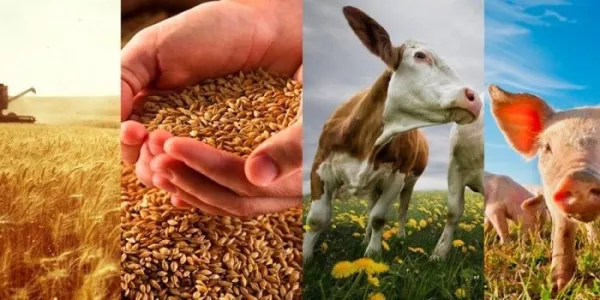 "We will fulfill grain, butter, sugar, meat and meat products according to the Food Safety Doctrine - there will be about 16 million tons of them. We will have a 2% growth compared to 2021. There will also be fulfillment for fish, for potatoes we hope that if we collect 7 million tons, we will exceed the level of food security. Last year it was slightly lower due to the fact that the harvest was lower," Lut said.
According to her, in terms of vegetables, Russia is also moving towards achieving food safety indicators. "We still have two positions that we still need to work on - these are fruits and berries, and milk. In terms of milk this year, we plan to produce 32.5 million tons, taking into account the private household sector (personal subsidiary farming - TASS note), this will also be an increase of 170 thousand tons, mainly due to the organized sector and farms, "said the deputy minister. She stressed that growth is already noticeable in the main indicators of agricultural production. "There are certain deviations in fish, but, accordingly, we will correct by the end of the year," she said.
Lut noted that in Russia there is an increase in production both in agriculture itself and in the processing industries and in the beverage industry. "In terms of food, our growth has slowed down, but, nevertheless, by the end of the year we will most likely reach 101%, that is, we will have a 1-2% increase compared to the previous year. That is, while we characterize the work as stable, the industry is operating normally, and all the processes that we have established allow us to meet the indicators of the state program and maintain our production volumes, taking into account their upward trend," the Deputy Minister said.
She recalled that harvesting of wheat and barley is ending in Russia, and harvesting of corn and sunflower continues. According to her, at the end of 2022, a drop in rice production is expected due to an accident at the Fedorovsky hydroelectric complex, but, nevertheless, the country's food security will be ensured. Sunflower harvest in Russia is expected to be 15 million tons, soybean - 5.3 million tons. "For soybeans, we are moving towards full self-sufficiency, in order not to import GMO soybeans, we must achieve this by 2026," Loot said.
The harvest of rapeseed will be a record 4 million tons, sugar beets - 43.5 million tons, which, according to Loot, will produce 6.2 million tons of sugar in order to provide Russia with this product. "Let me remind you that we need 5.8 million tons, plus we will retain a certain export potential," the Deputy Minister said. She added that the production of vegetables, taking into account the protected ground, is expected in the amount of 6.8 million tons.