The 30th Anniversary autumn food and drink exhibition WorldFood Moscow will take place on 21-24 September 2021 at Crocus Expo. The event will be organized by Hyve Group.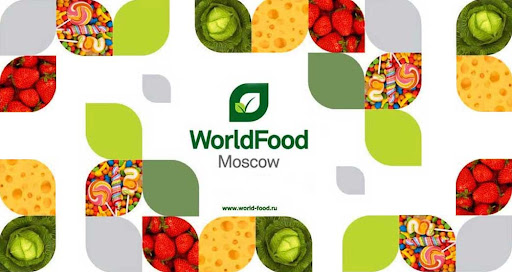 Every autumn, for three decades running, WorldFood Moscow becomes a meeting venue and a platform for exchange of experience the Russian and global food market leaders. At the exhibition site, leading producers of food and beverages, representatives of wholesale and retail trade, public catering and HoReCa get a unique opportunity to negotiate with new customers and suppliers, expand the geography of sales and sign new contracts, get acquainted with the market innovations, and find new partners.
In 2021, over 600 companies will participate in the anniversary exhibition, of which more than 110 will exhibit at WorldFood Moscow for the first time. The Russian exposition will be represented by exhibitors from 59 regions: Altai Territory, Altai Republic, Republic of Buryatia, Irkutsk Region, Kabardino-Balkarian Republic, Kursk Region, Moscow Region, Primorsky Territory, Sakhalin Region, Udmurt Republic, Republic of Khakassia, Chelyabinsk Region, and others. In addition, companies from 30 foreign countries will exhibit at WorldFood Moscow 2021. Azerbaijan, Burundi, Chile, Czech Republic, Egypt, Italy, Kyrgyzstan, Korea, Peru, Poland, Serbia, Slovakia, Sri Lanka, Turkey, and Uzbekistan will arrange national pavilions on site.
At WorldFood Moscow 2021 the exhibitors will showcase their goods in the following sections: Fruit and Vegetables; Fish and Seafood; Meat, Poultry and Eggs; Dairy Products and Cheese; Confectionery and Bakery; Organic and Healthy Food; Grocery; Canned Food; Oil, Fats and Sauces; Soft Drinks and Alcoholic Drinks; Frozen, Convenience, and Ready-to-Eat Food; Tea and Coffee; Non-Food. Among the new exhibitors are such companies as: "Acorla", "Greenwise", "Sweet Life", "IcePro", "Arnas Agro", "Baza", "GoodWin", "Dikoed", "Zaliv Vostok", "Master Jam", "Mezheninovskaya poultry farm", "Moyo Leto", "Ochakovo" "Cherkizovo", "Filimonov and Son", "Fresh Izyum", "Tsvet Prirody", "Ecotopia", and others. The full list of WorldFood Moscow 2021 exhibitors is available on the exhibition website.
For the first time, WorldFood Moscow will feature a food truck zone, where "Efko", in partnership with "Mobitruck", will present its vegan meat products for street food. In a specialized zone (Hall 14, stand С1049), negotiations will be held between the exhibitors and regional retail chains, members of the Union of Independent Chains of Russia, of which 35 regional chains showed interest in the products of WorldFood Moscow exhibitors.